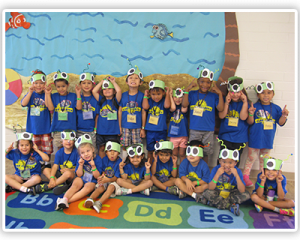 Ages

4-5 years old (by the start of the camp week)

Locations

Canyon Country Park, 17615 W. Soledad Canyon Road

Valencia Glen Park, 23750 Via Gavola

Dates/Times

June 11 – August 3, 2018 (weekly registration)

9:00 am – 1:00 pm

Cost /Enrollment

Options

Monday/Wednesday/Friday:    $57/week

Monday/Friday: $38/week  (Week 4 only due to Independence Day on Wednesday, July 4)

Tuesday/Thursday:   $38/week

(5-day enrollment not allowed).
Program Information:
Children must be able to toilet independently (no pull-ups and completely potty trained).
Children must enroll in the program appropriate for their age, no exceptions.
Campers receive one free t-shirt per participant for the summer regardless of the number of weeks enrolled.
Camp T-shirt and closed-toe shoes must be worn everyday.
A snack is provided daily.
Campers need to bring a sack lunch each day.
 

Dates

Theme

Week 1

June 11-15
Down on the Farm

Week 2

June 18-22
Little Picassos

Week 3

June 25-29

 Under the Sea

Week 4

July 2-6

(Camp closed on Wednesday, July 4 in observance of Independence Day)

Stars & Stripes
Week 5
July 9-13
A Bug's Life
Week 6
July 16-20
Moovin' & Groovin'
Week 7
July 23-27
Little Scientists
Week 8
July 30-August 3
Pajama Jam